365nm-390nm UV (Ultraviolet) LED Light Strips
$90.00 – $375.00
UV (Ultraviolet) LED Light Strips or 365nm UV led strip in special wavelength: 365nm-370nm, 370nm-375nm, 375nm-380nm, 380nm-390nm
Compare
Description
UV (Ultraviolet) LED Light Strips or 365nm UV led strip in special wavelength: 365nm-370nm, 370nm-375nm, 375nm-380nm, 380nm-385nm, 385nm-390nm.
The UV LED Lighting Lights are often used in below applications:
1. Industrial Curing Fluorescence disclosing
2. verification Air Purification Medical
3. Biomedical Applications
4. Dermatological Equipment
7. Photo Polymerization Spectroscopy
8.Dental Curing and Teeth Whitening Sterilization and Medical 9.DNA Gel
We can guarantee that all our 365nm uv light strip from Belecome Lighting are real 365nm-370nm and we can send you our test report by professional testing lab and testing device. That's why our price is different from some cheap platform selling fake. If you need testing report,please message us.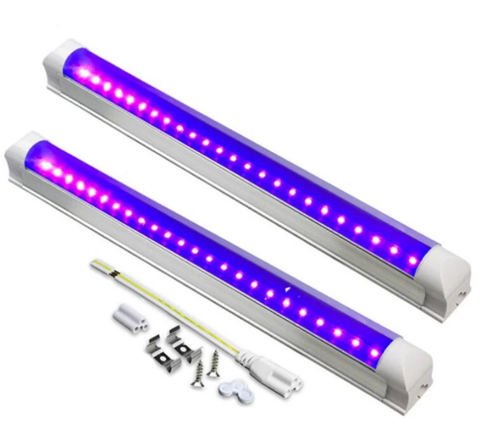 UV (Ultraviolet) LED Light Strips
Specification
LED Type: UV SMD2835 LED QTY.: 60LED/Meter,15W/meter, 300LED/Reel ,75W/5meter
120LED/Meter, 20W/meter,600led/Reel,100W/5meter
UV led strip Input Voltage: 12V DC/24V Cuttable: Every 3LED per 2" a unit and cuttable
Size(W*H/mm): 8*2 Weight: 0.15kgs per 5meter per roll Wave length: uv led strip 365nm:365nm-370nm, 380nm-385nm, 395nm-400nm PCB Background color: White PCB Backing: Double-sided Adhesive backing Beam Angle: 120° Dimming: PWM dimmable(more information please refer to different Dimmer applications) Waterproof Type:
1. IP33 Non-waterproof(indoor use),
4. IP68 Silicone Gel Filling Pre-wiring: 20cm Red/Black Lead wire at one end of the strip 
365nm led strip PACKAGE INCLUDE
1x 16.4ft/5m 300LEDs SMD3528 UV LED Strip(Do not include power supply)
1x DC Screw terminal adapter
UV LED Lights Application
Fluorescence disclosing and verification
Medical and Biomedical Applications
Dental Curing and Teeth Whitening
Sterilization and Medical
 Warnings and Handling Instructions on UV LED LightsBrand: EVER LIGHTS
 UV-LEDs of
UV (Ultraviolet) LED Light Strips
emit invisible ultraviolet radiation in operation. It may be harmful to eyes or skin, even for brief periods. Do NOT look into the UV-LED during operation. Be sure that you and all persons in the vicinity wear adequate " UV " Safety protection for eyes and skin. If you incorporate a UV-LED into a product, be sure to provide WARNING labels.
Additional information
| | |
| --- | --- |
| Weight | N/A |
| Power | 300LED 5METER 75W, 600LED 5METER 100W, 100W Power Supply, 150W Power Supply |
| Wave Length | 365-375nm, 380-390nm, 390-410nm |
| IP Rating | IP20 Nonwaterproof |